Recruitment website templates
Use prebuilt recruitment website templates to get started
Spin up your recruitment website in under 2 minutes by starting with one of our professionally designed recruitment website templates. These recruitment website templates have been designed by recruitment experts and can be easily customised with your branding.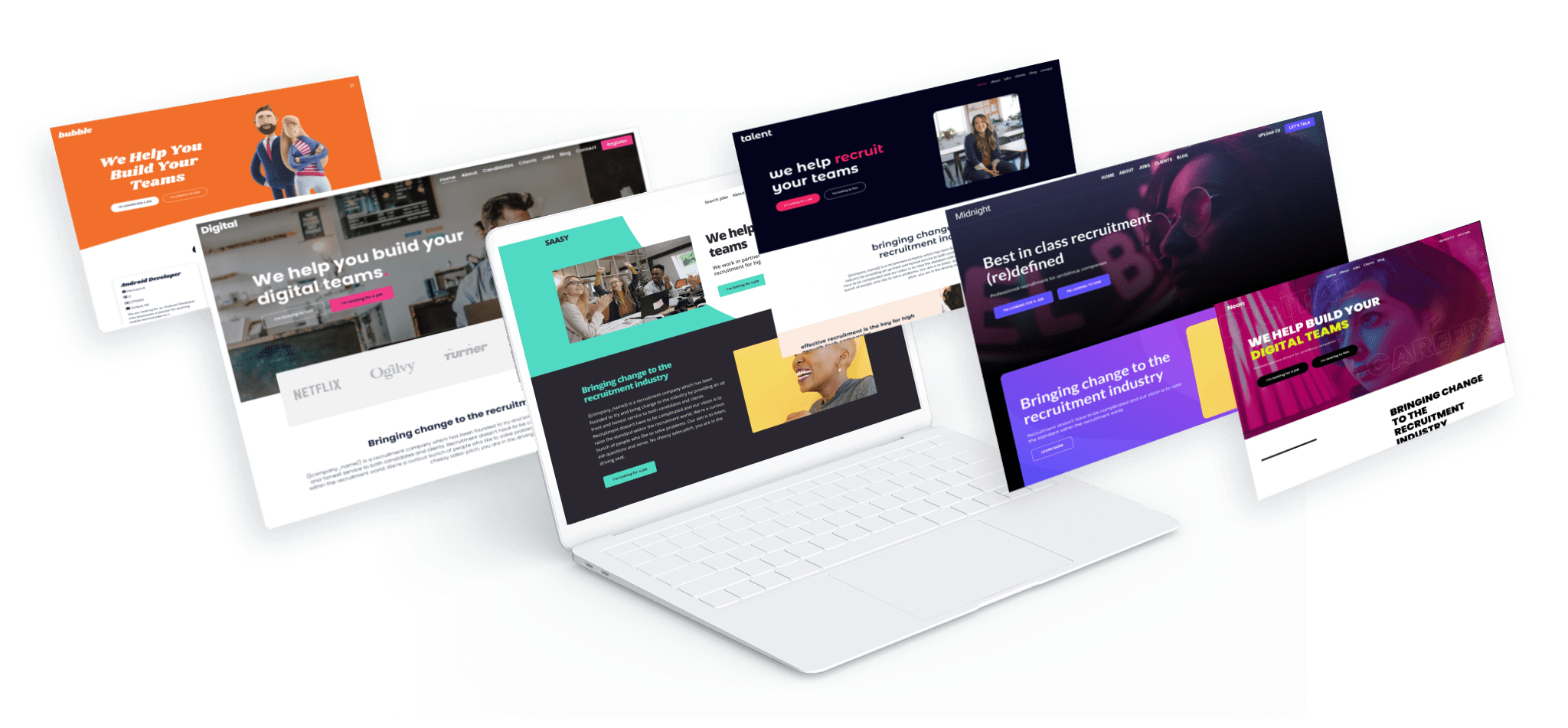 Recruitment website templates comes with advanced features and powerful integrations.
Features and integrations such as integrated job board, CRM integrations such as Bullhorn, Vincere, JobAdder, Loxo, Zoho. Multi-posting integrations such as Broadbean, Logic Melon and Idibu. Google for Jobs ready, reliable hosting and SSL certificate and more.
Post jobs with advanced job filters and customised application forms. Manage and organise applications.
Keep your website jobs in sync with your CRM. Integrations include Bullhorn, Vincere, JobAdder, Loxo, Zoho Recruit and more.
Broadbean, Logic Melon or Idibu jobs are instantly posted to your website. Applications are also tracked.
Google will rank your jobs above SEO results from job boards and larger niche-operating agencies.
Everything you need for fast, powerful SEO. Start ranking higher with industry-leading features.
Integrate with Google Analytics to add statistics, graphs, and user metrics to your website.
Fetch reviews from social channels like Google My Business, Trustpilot, Facebook and Yelp.
Manage your social media marketing. Post to up to 15 connected social accounts.
Automatically add new blog posts so your website stays relevant and up to date with the latest insight.
Connect with your visitors through chat widgets with platforms such as WhatsApp, Messenger and more.
Automagically create branded job link social images when you share a job link on social or in a message.
Make website accessible to people with perception problems, cognitive impairments, hearing or vision impairments.
Do you have questions? Please, take a look at our FAQ.
The smart way to get a recruitment website from the #1 pay monthly recruitment website design platform.
Create your recruitment website in less than 2 minutes for only £49.
Get Started
Book demo