Advanced recruitment website design features
Recsites is the #1 pay monthly recruitment website design platform. We give everything you need for a feature rich recruitment website. Advanced recruitment website design features include integrated job board, powerful page builder, Google For Jobs Ready, SEO Tools, Google Analytics, Social Reviews, Live Chat and more.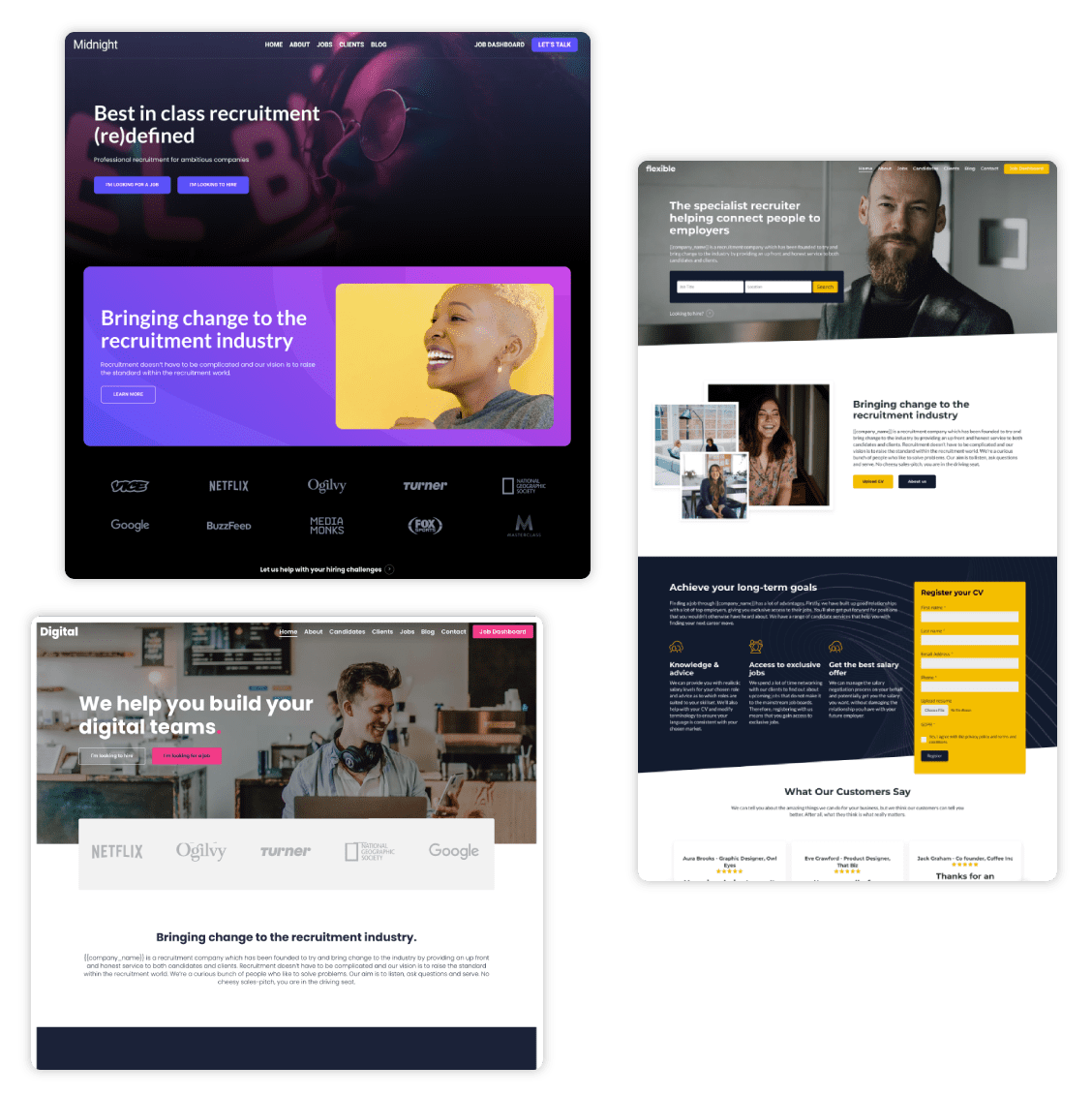 Stunning recruitment website design templates that are easy to customise
Spin up your recruitment website in under 2 minutes. Start with one of our professionally designed recruitment website templates. These recruitment website design templates have been crafted by recruitment experts. Templates can be easily customised with your branding. Packed full of awesome features and powerful integrations.
More website templates
Promote your jobs on integrated job board
All jobs listed on your website will display the job title, job description, contract type, location, salary and job category. Advanced job filters make it easier for candidates to find relevant jobs by filtering by keyword, location, job type and category.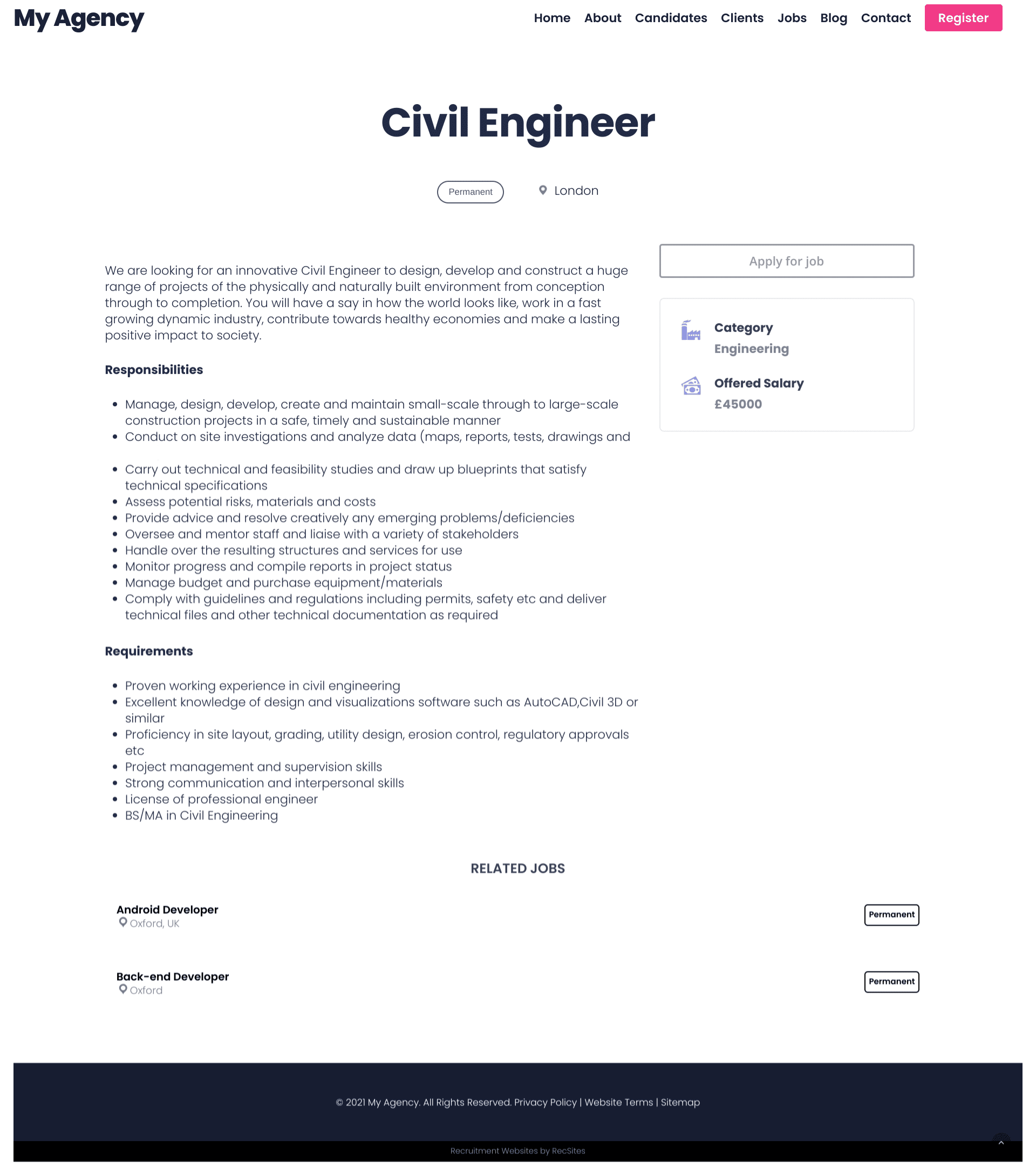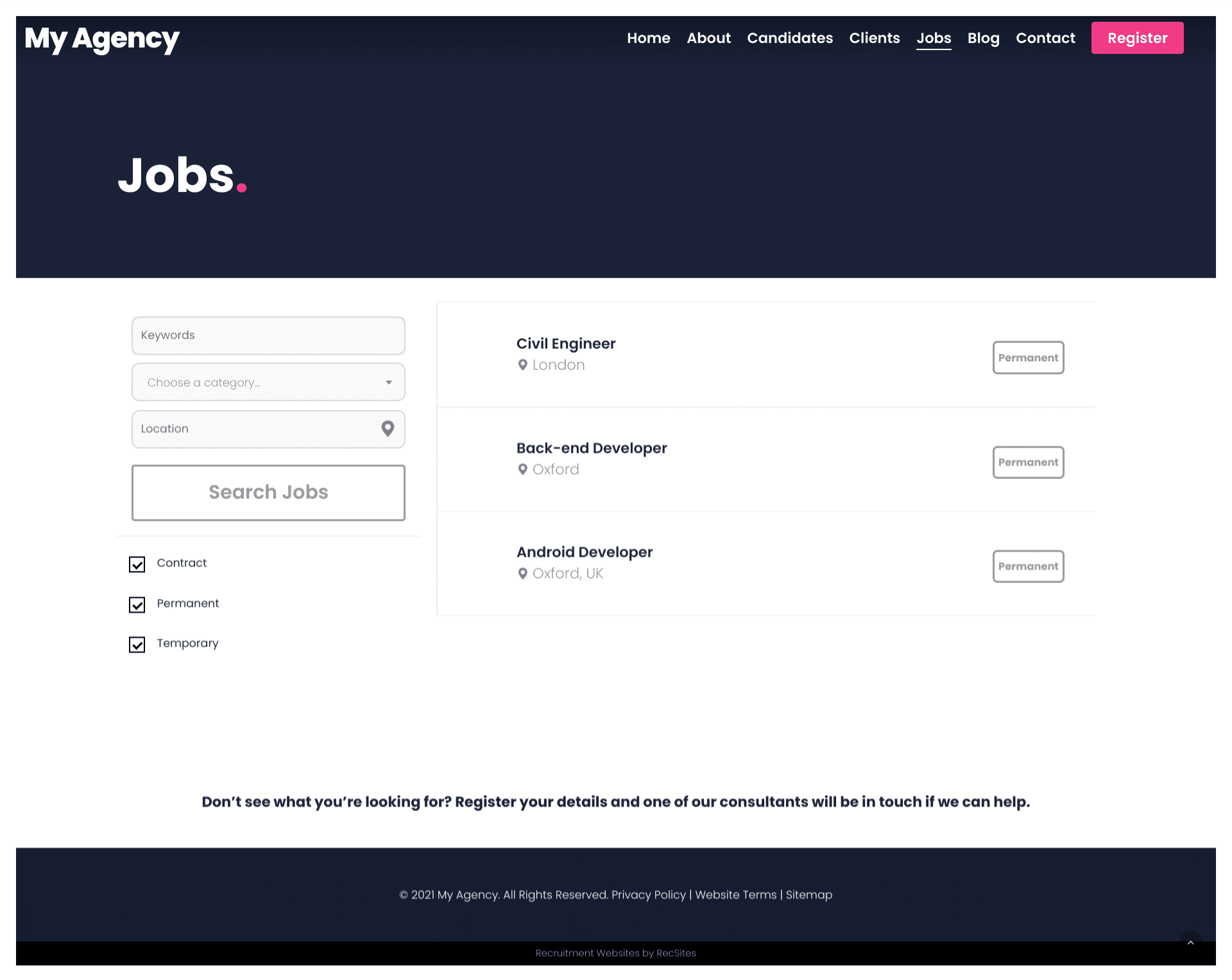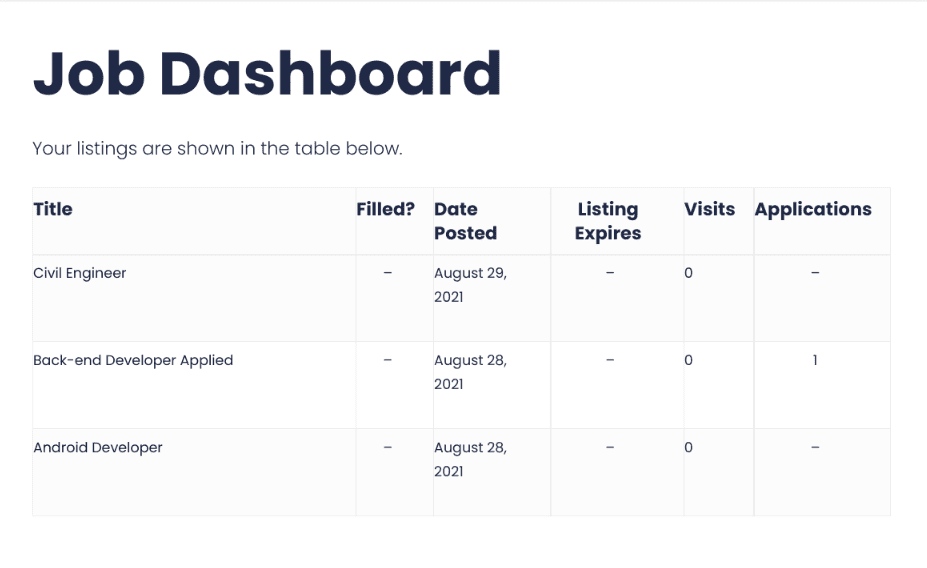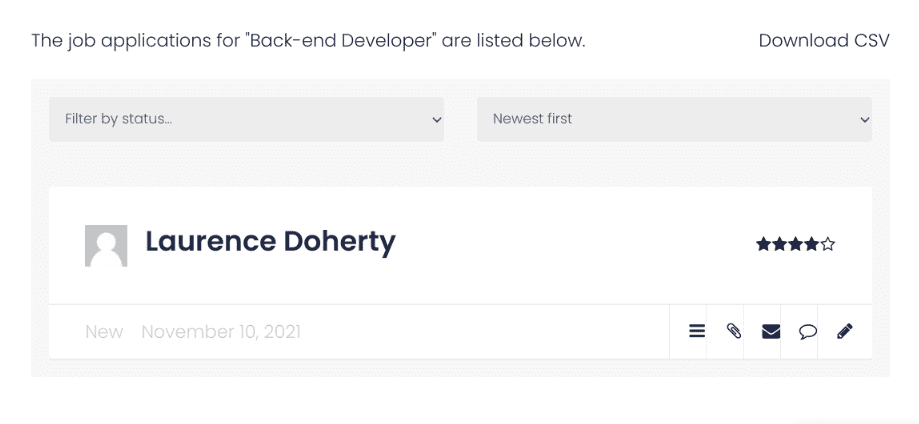 Manage job applications easily from your Job Dashboard
Applications can be given private notes, ratings, and organised by status (e.g. interviewed, new, archived). Each application contains links to email the applicant and view their resume.
Customisable application form
The application form shows customisable form fields for the candidate application, such as name, email, cover letter/message, and an upload field for the candidate to attach their resume file. Fields can be edited, added or removed to suit your needs.
Submitted applications get stored in the job dashboard and the recruiter and candidate also gets a customisable email notification.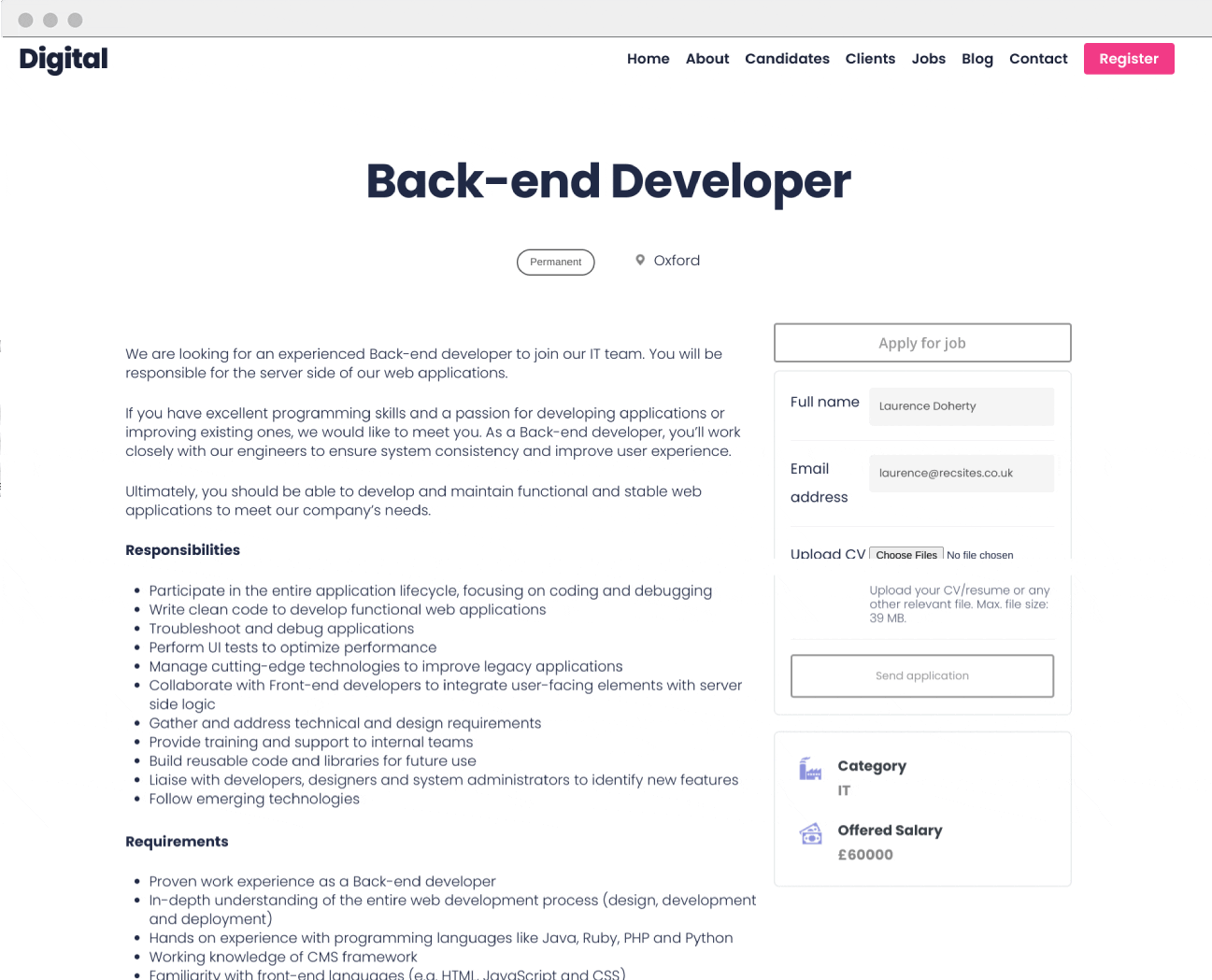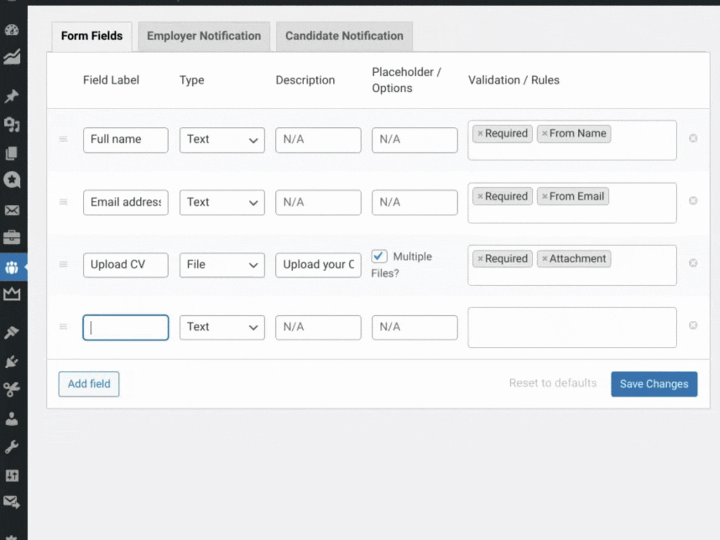 Recruitment website integrations
Automate your recruitment processes with our powerful website integrations with leading CRM's such as Bullhorn, Vincere, JobAdder, Loxo and Zoho Recruit. Job distribution platforms such as Broadbean, Logic Melon and Idibu. Websites are Google for Jobs ready. Integrate with social platforms such as Facebook, Twitter, Youtube and Instagram.
More integrations
Building your recruitment website has never been easier
The freedom to build a recruitment website limited only by your imagination. All the tools you need to create a recruitment website that's unique to you without any technical expertise.
DRAG & DROP BUILDER
Create the perfect site with powerful tools
ADVANCED TYPOGRAPHY
900+ Google fonts with live font previews to choose from
IMAGE LIBRARY
Choose from millions of photos from the built-in Pixabay and Unsplash image library or upload your own
RESPONSIVE DESIGN
Built with responsive design in mind to that your website looks great on any device
VIDEO BACKGROUNDS
Add video backgrounds to engage website visitors and create that wow effect
CUSTOM HTML/CSS & JAVASCRIPT
The option to fully customise everything you need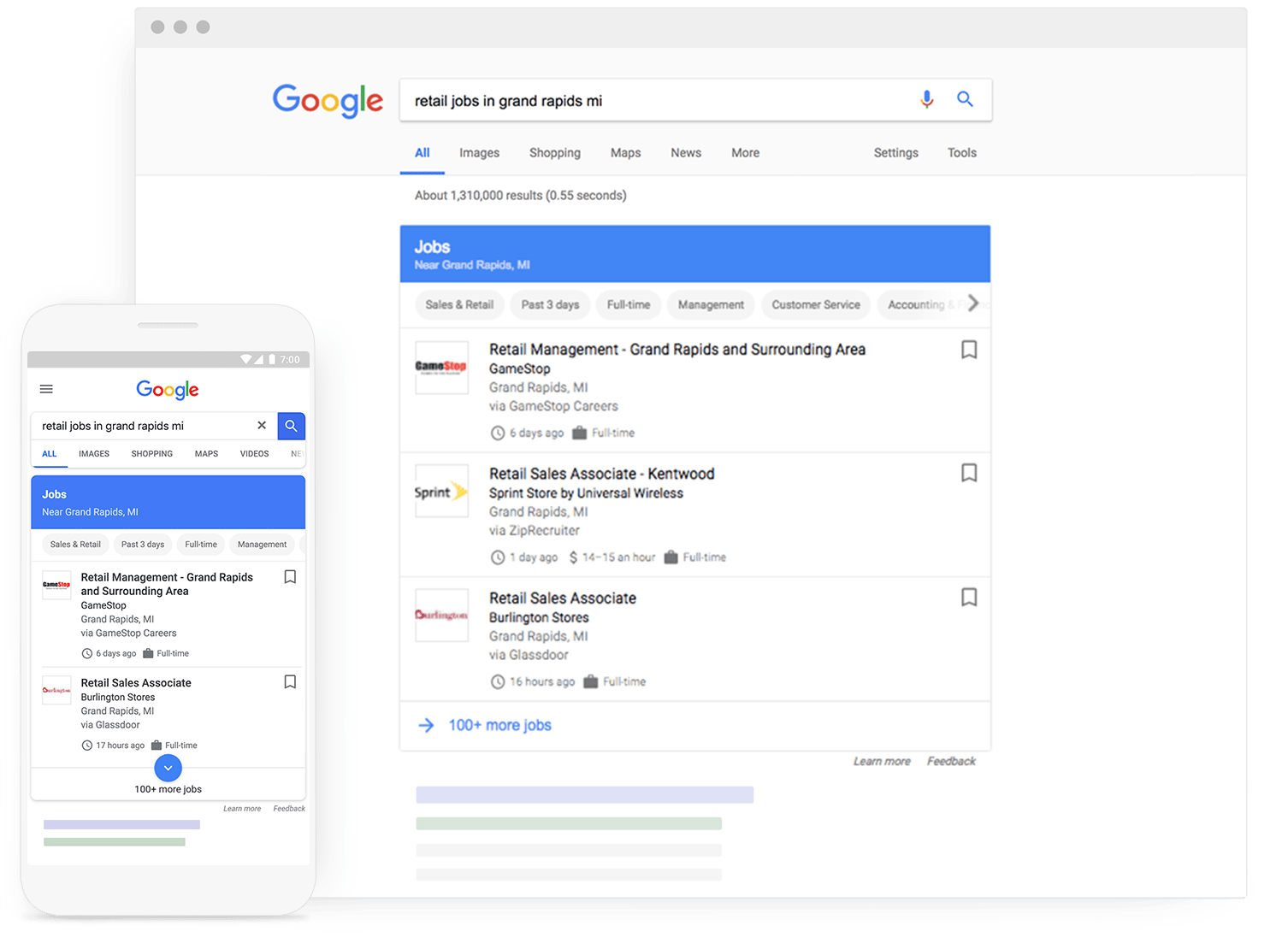 Google for Jobs could help you reach thousands of more candidates every year
Google will show your job postings directly in its search engine. Ranked above SEO results from the big boys: job boards and larger niche-operating agencies. A huge opportunity for recruitment agencies to outrank the competition.
We handle everything SEO so you can focus on what you do best
Recsites gives you everything you need for fast, powerful SEO. Start ranking higher with industry-leading features like:
Sitemap auto-generator and search engine notifications
Titles and meta descriptions
Full support for default schema.org types
Advanced social media sharing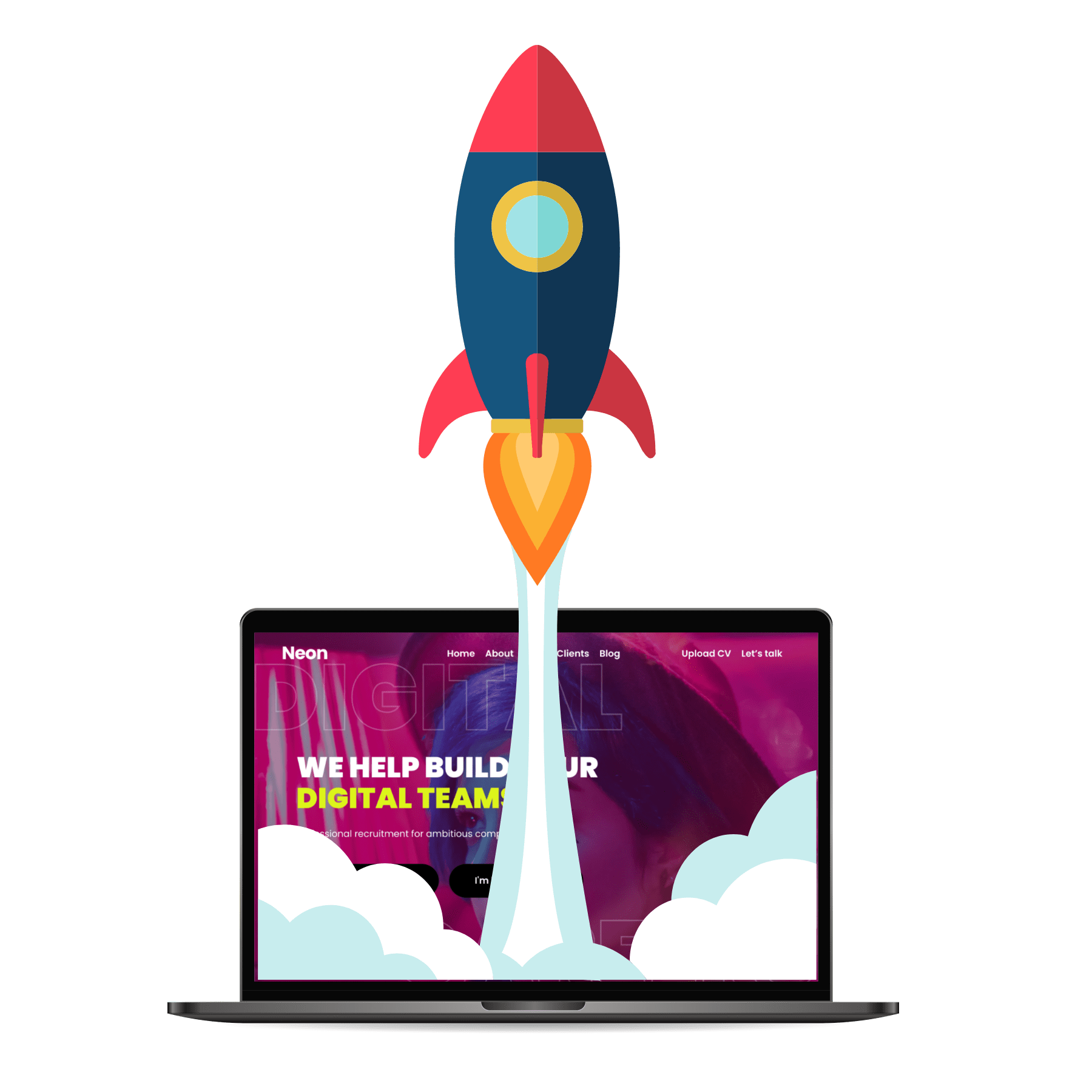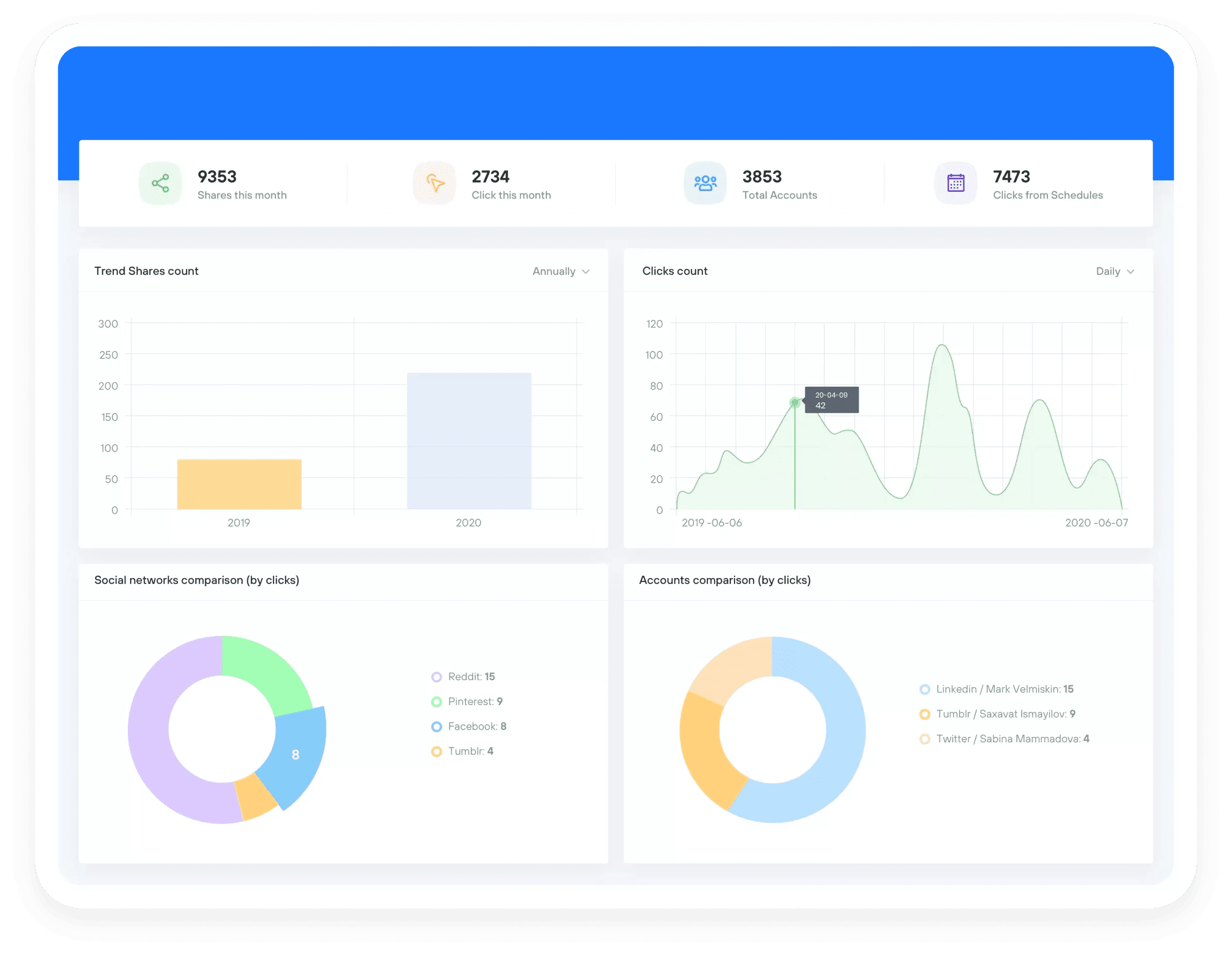 Social Media auto-poster and scheduler
Publish your jobs and blog posts on the most popular social networks. You can also schedule new jobs and blog posts, re-publish previous content, and enable a direct share of individual jobs and posts on every platform.
Interactive calculators are an incredibly impactful way to demonstrate key selling features of your recruitment service to clients. Calculators are completely customisable to suit your use case. For example, the calculator example provided here demonstrates how a monthly retained model saves the client money based on the number of hires compared to a traditional contingency model.
Get in touch to get yours
Cost Calculator
If you have an idea of your hiring forecast and you know your current agency utilisation then have a play with our calculator.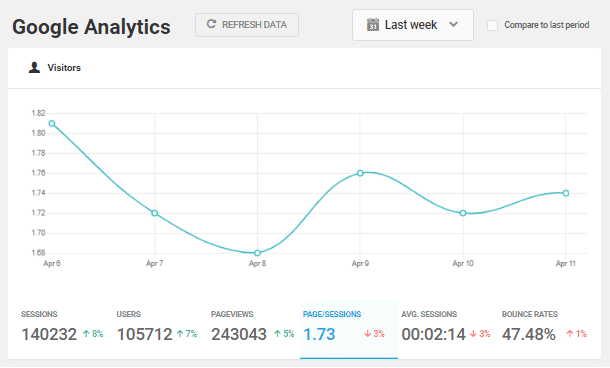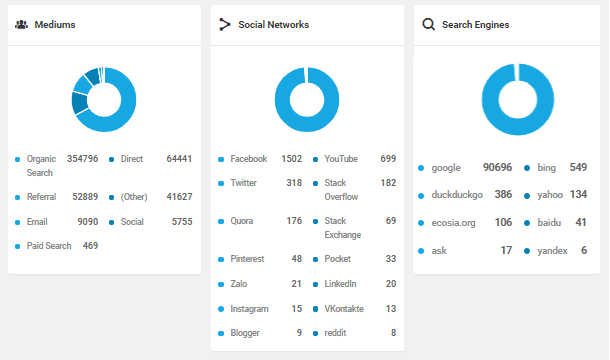 All the data you need to run your website like an expert
Websites look great when viewed on any device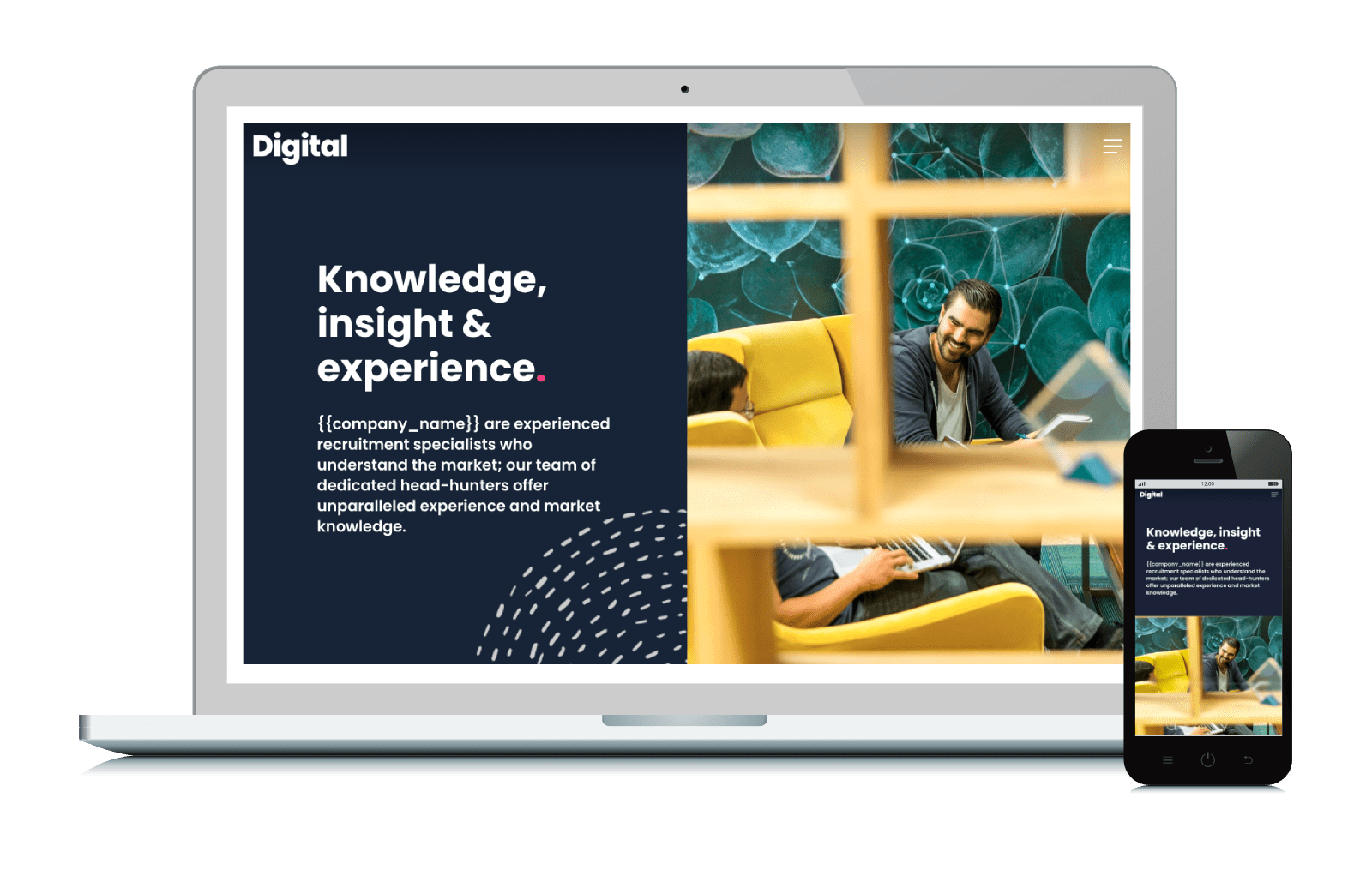 Don't sweat the technical stuff
Rest easy. We take care of security and infrastructure so your website always runs fast, stays online and looks great.
Next generation managed hosting. Enjoy exceptional site speed and reliability with our website hosting service. Best part? You don't have to do anything, it's free.
Every site gets a free SSL cert from Let's Encrypt which is automatically set up and configured for you.
Build your site on our branded domain and when you are ready to go live you can map the website to your custom domain with just a click.
Build your brand through social reviews
We automatically fetch your reviews from social channels like Google My Business, Trustpilot, Facebook and Yelp. This pushes your website to rank high in search engines, improving the brand reputation and trust to reach a larger audience.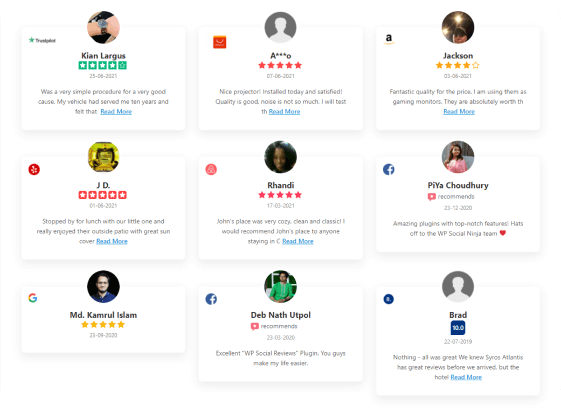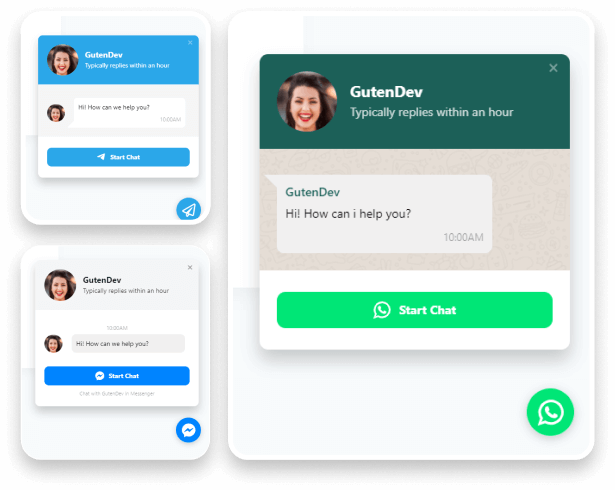 Communicate with your customers to expand your sales
Instantly connect with your visitors through chat widgets integrated with your preferred platforms such as WhatsApp, Messenger, Slack, Skype and more.
Automatically populate your website with fresh content. We automatically add new blog posts to your site every day so your website stays relevant and up to date with the latest insight.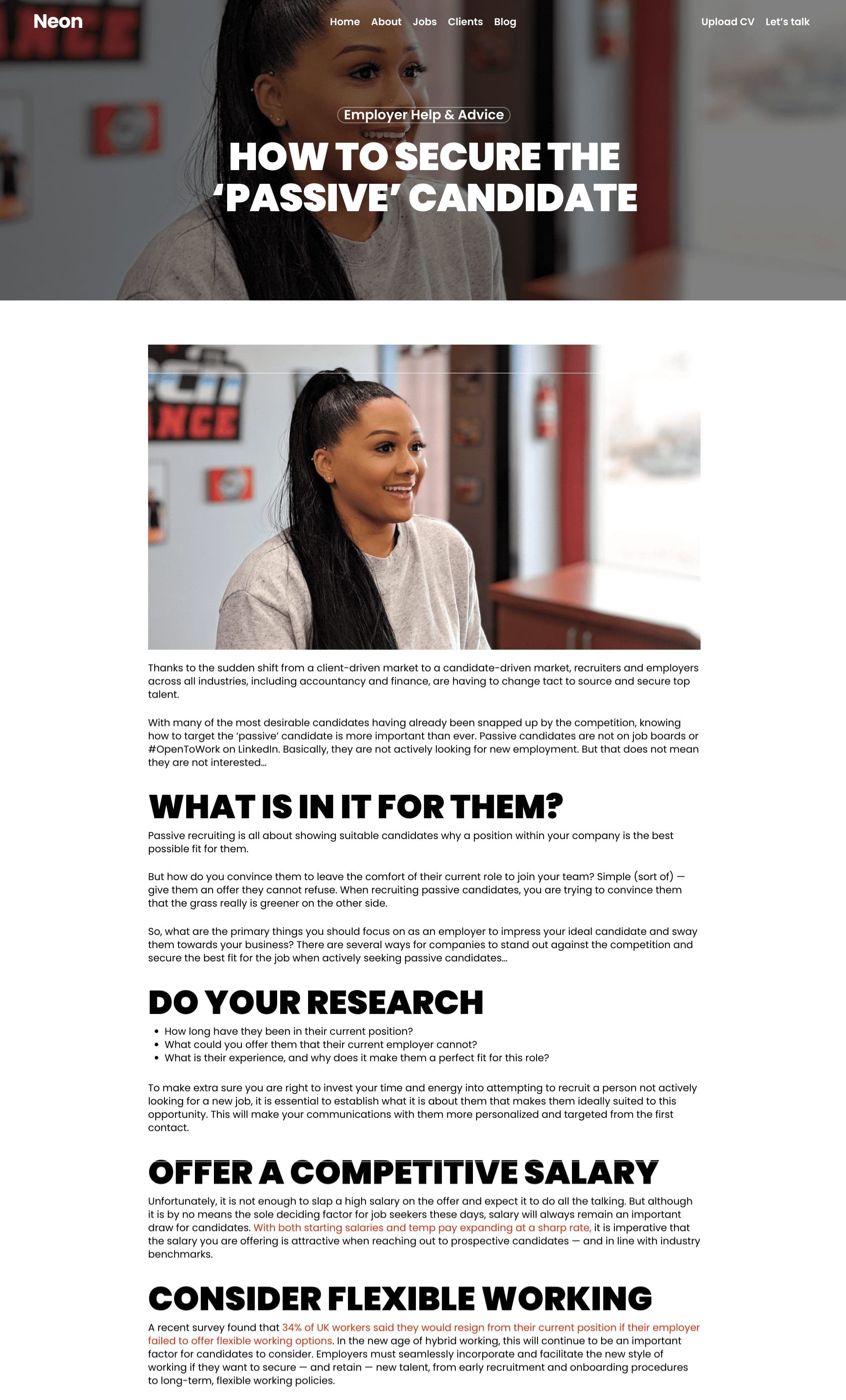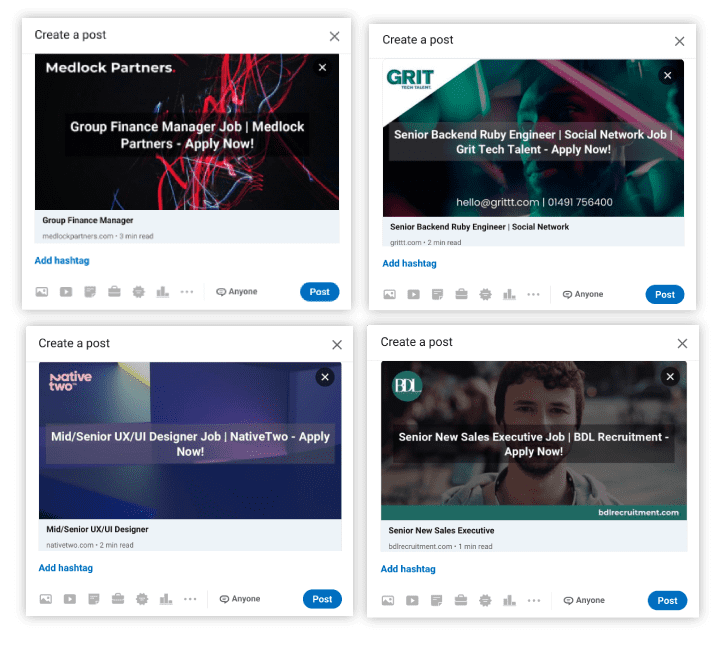 Maximise job clicks and views with branded job links
Automagically create branded job link social images when you share a job link on social or in a message. Job link image is matched with your company brand, including an on-brand image, company logo, company name, job title and link to the job.
Make website accessible to people with perception problems, cognitive impairments, hearing or vision impairments.
The smart way to get a recruitment website from the #1 pay monthly recruitment website design platform.
Create your recruitment website in less than 2 minutes for only £89.
Get Started
Book demo